English Essentials Vol 47, 48 & 49
Topics Covered In The Issue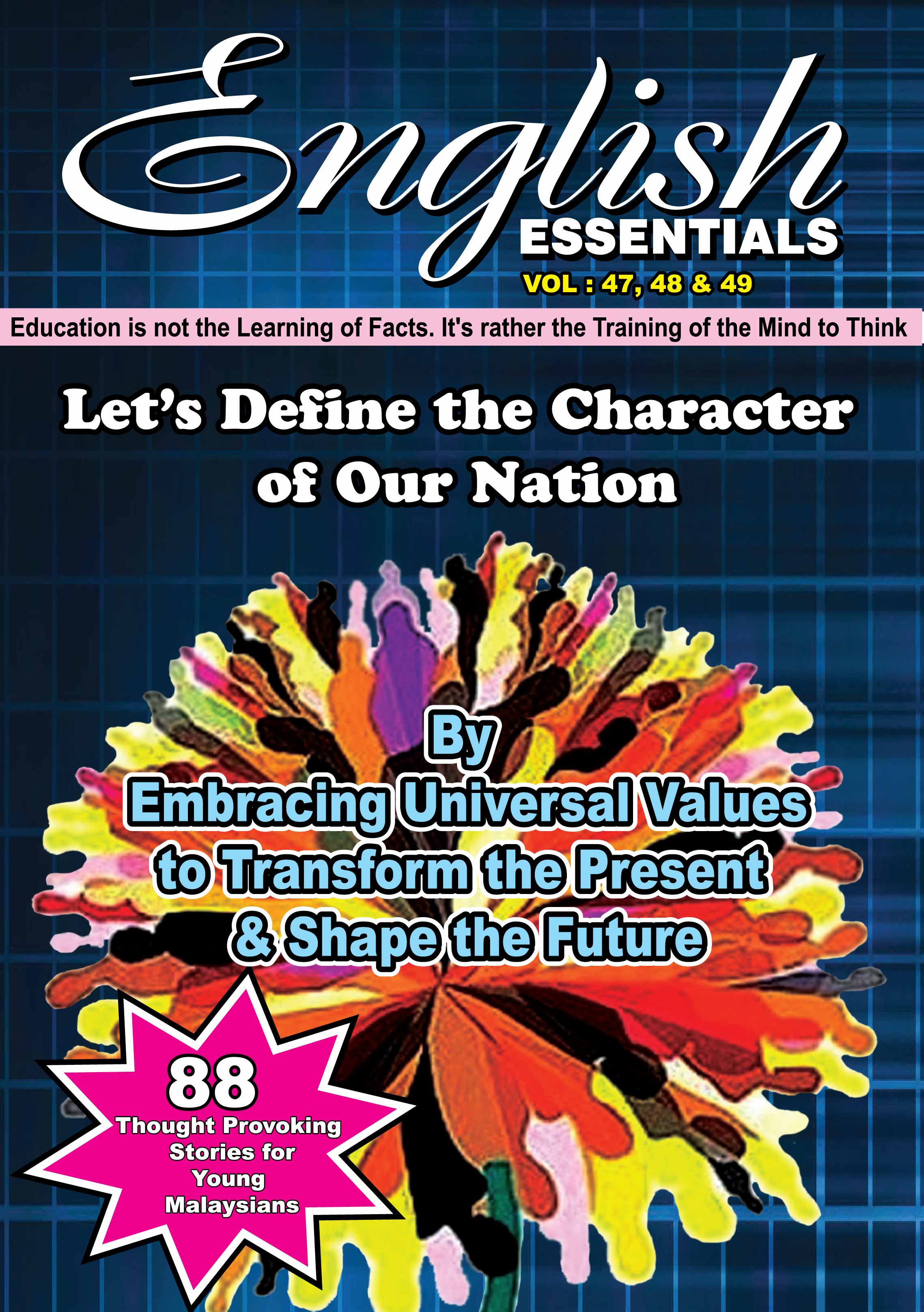 CONTENTS
We Are All One
If You Love Your Country
Morality is the Most Basic Expectation of Man
A Beautiful Letter Written by a Father to his Daughter
An Extraordinary Act by Madam Noriza Mansor –
Which goes beyond Race, Religion, Colour and Creed
Bringing True Love and Humanity into this World
Being Happy Depends On Us
Dying Without a Penny
Helping An Old Lady In Need
Honesty Pays
Philosophy of Life by a Visionary – Last Words of Steve Jobs
Sacrifice by a Child for Friendship
The Meaning of Life!!!
Three Short Stories About Happiness
Is Your Child Getting Enough Vitamin N?
Time is Our Most Precious Treasure
The Power of Faith – He's Taking Me Home
Ducks Quack and Eagles Soar
Power of Your Thoughts
How To Make Your Personality Attractive
Formula for Sure Success
Love Me Now While I Am Alive!
A Reasonable Dose of Worries is Necessary
How to Overcome Troubles of Life?
What An Age We Are In!
Virtues of Importance
Be Interesting and Interested
What I learnt From Life – Never Accept Defeat
I am Changing
Drinking from the Saucer
Whoever Guards His Tongue Keeps His Soul from Troubles
We Shall Definitely Overcome!
An Old Lady Withdrawing Money
Deep Love and Gratitude – You will never stumble.
The Giver is Bigger than the Receiver
Dignity is not for Negotiable
Common Sense is Showing Little Kindness
Why Me?
Live Your Life More By Example
A Sense of Duty
Life Is the Greatest Teacher of All
A Letter from Abraham Lincoln to his son's Head Master
Positive Thinking Quotes
Overcome the "After Theory"
Do Not Be Petty – Minded
Who is a Gentleman?
Tolerance Leads to Happiness
Tackle Your Emotions with Care
You Are As Young As You Feel
What's Life?
The Snake and the Saw
She Slept with Her Snake and then the Vet Told Her Something Shocking
Dr A.P.J. Abdul Kalam – A Symbol of Humility
Stop Boasting
One Man's Mission
Learn to Cut Pride and Learn to Control Anger
What is the Value of Your Life?
The Meaning of Success
Somehow I am Always Held
Life is a Gift
Dedication and Passion can Overcome Any Obstacles
Cranky Old Man
My Soul Has a Hat
It's Not Over until ……. You Say it's Over
I am Because We Are
The Soul Always Knows What To Do To Heal Itself
Live with Gratitude
Invictus – The Poem Which Changed the Destiny of a Nation
Virtues – The Gifts of Character
Six Little Inspiring Stories of: Faith, Trust, Hope, Confidence, Love and Attitude
Nature is an Integrated Process of Immense Complexity
Sweeten Life with Simple Acts of Courtesy
Best Person You Can Be
Be Fair
Find the World within You
A Man is As Great As
Humility
On Being Beautiful
Common Bond
On Making Mistakes
Discover Your Creative 'Self'
Be Self – Reliant to Succeed
Hearty Laugh
True Sacrifice and True Selflessness
19 Aug 2018
UN Secretary-General's Message On World Humanitarian Day
Don't Be A Patriotic For A Day. Be One Every Day.
Unified in Diversity.
The Malaysian Experience to Unity – Not All is Lost.