English Essentials Vol 38
Topics covered in the Issue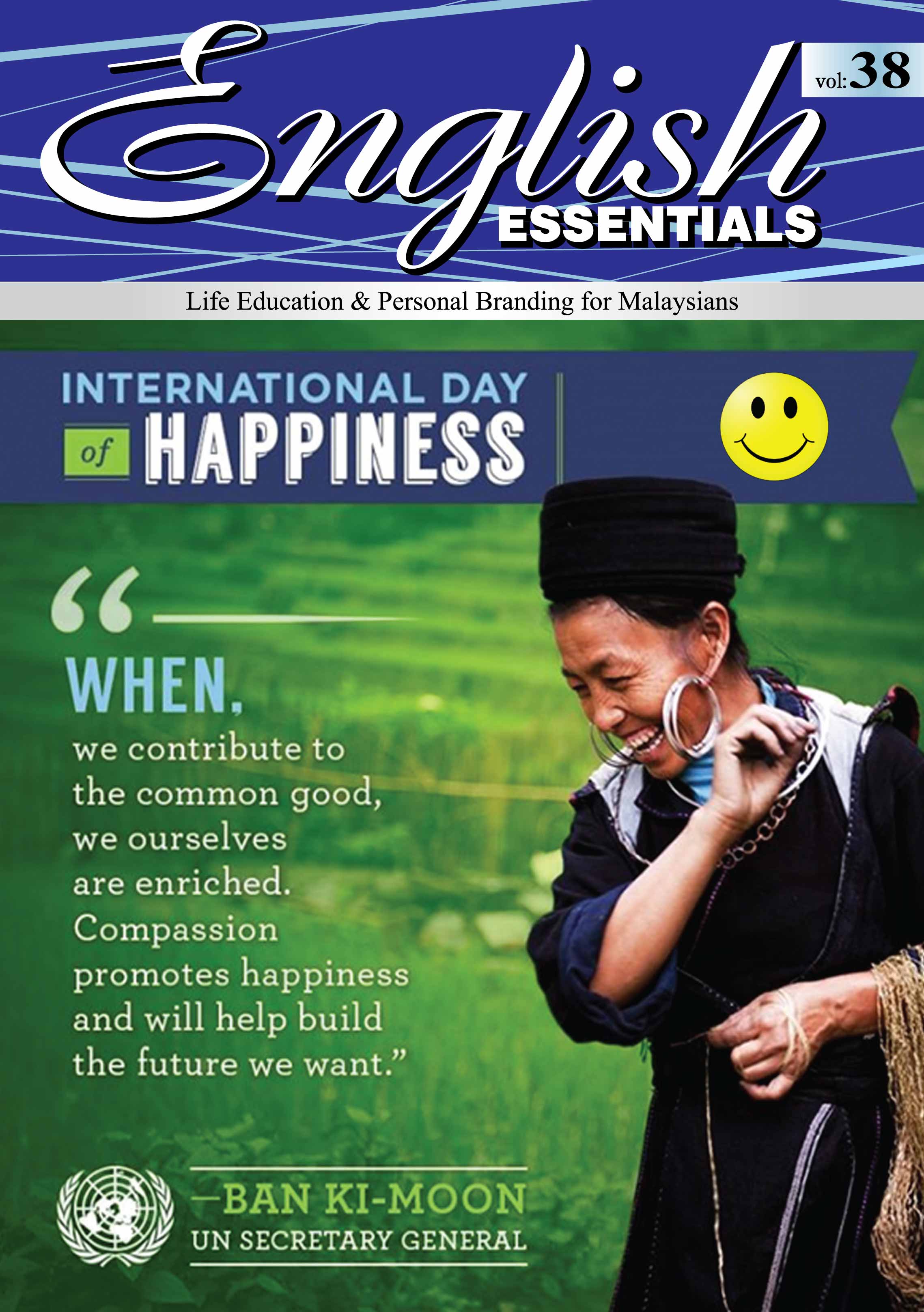 Section 1 – Moral Standard & Character Building
1.1 In Pursuit of Happiness – How Do We Truly Attain This?
– What is happiness?
– How do we attain happiness in Life?
– The 'Psychologist Magazine'
– Where is Happiness? From the `Psychologist Magazine'
– Conclusion
1.2 Short Stories about Happiness.
– Chasing Happiness
– How to Be Happy?
– Caring For Others
1.3 An Inspirational Story about Helping Others.
1.4 Character Building
– Sacrifice by a Child for Friendship's sake.
– Sindu – My Angel * The Story by a Father
– The Soul Always Knows What To Do To Heal Itself.
Section 2 – Philosophy & Wisdom
2.1 There will be Peace throughout the World – Confucius
2.2 Six Mistakes of Man
2.3 Sixty – Five (65) Deep Philosophical Questions to reflect upon.
2.4 AL-KINDI – The Father of Renaissance
Section 3 – A Great Speech by Steve Jobs for Budding Entrepreneurs
3.1 The first story is about connecting the dots.
3.2 My second story is about love and loss.
3.3 My third story is about death.
Section 4 – Business & Management
4.1 Most Powerful & Valuable Companies.
4.2 Human Capital Development – An extract of a speech delivered by Mr. Ratan Tata
4.3 Leadership – Difference between Boss and Leader.
4.4 Great Islamic Leader – Suleiman The Magnificent of The Ottoman
Section 5 – Healthy Living Lifestyles
5.1 Heart Attack – The Number One Killer in Malaysia.
5.2 Interview with the renowned Heart Surgeon – Dr.Shetty
Section 6 – Back Cover – UN Secretary – General's message for the International Day of Happiness